By Tom Smith
We're in a new age of media. Let's face it: when anyone sees an online article with a video at the top they click on the video before reading. What's more; video technology is more affordable now than ever. Most families own a DSLR that most likely shoots crystal clear Full HD video. So, if you still have any doubt, why should you use video in your content and marketing efforts?
1. ENGAGEMENT. Video is a nearly guaranteed way to get your audience to click on your page or like your post. This certainly doesn't mean that video is better than text or photos – when it comes to credibility we'd trust someone well-read on a subject over another well-watched. But it is important to realize how video can fit into your brand's strategy.
Need some more engagement on social media or a longer time-on-page metric? Post a video, because the way we interact with a video is different from text or photos. Facebook and Twitter are still striving to increase their video capabilities to rival YouTube.
2. BEAT THE COMPETITION. Video is by no means a necessity to your online presence. Before YouTube and Vimeo made hosting videos quick and easy plenty of industries didn't worry about video online. Keep in mind though, if you have video and your competitor doesn't, you're more likely to get the sale or lead.
Imagine this: you need to find an oral surgeon. What's the quickest way to anything today? Google (or any search engine). You search for a specialist in Bristol Township, Bucks County and find three – of those three one has a video on their website. You immediately click on the video and find the oral surgeon to be down-to-earth and knowledgeable. It will certainly be hard for a list of credentials on another specialist's site or the copy someone has written to beat that initial impression you received from the one in the video.
I think it is safe to say that most people have made an online purchase of a product which featured a video to attest to the product's worth. In fact, 90 percent of shoppers on a major retailer's website reported that video helped them make a purchase.
3. THOUSANDS OF WORDS. We all know that a picture is worth a thousand words, but what's a video worth? Video combines the power of the image and audio to give an audience the feeling of having an experience. When you watch a good movie, you feel like you were there as the events unfolded. Harnessing that potential, video can give customers the feeling of having witnessed a product or service without ever leaving their living room.
4. SEARCH. Is your brand at the top of search results?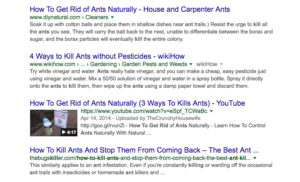 Whether your website is or isn't, your video could be. Videos are often displayed in general search results, just like images are. And if a searching customer finds your video you know they're more likely to watch it before they read a competitor's copy. The next time you search the internet, keep this in mind and you'll see the impact for yourself.
5. CREDIBILITY. When you add video to your webpage and social media, not only is your audience more engaged and likely to make a purchase, but their image of your business has been raised. Well-produced video, even if it is simple, implies a level of authority for an organization and shows you're on the cutting edge.
About the author
Tom Smith holds a Bachelor of Fine Arts in Film, Photography and the Visual Arts from Ithaca College. He is an experienced videographer hailing from Morrisville (Bucks County) Pennsylvania. For more on how Tom can help your business engage with its audience through video, contact him at Tom@KatalinasCommunications.com.